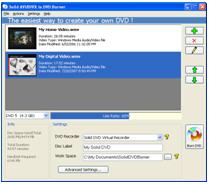 Name: Solid DVD Creator
Version: 1.2.7
OS: 98/2000/XP/2003/Vista
Size: 5.9 M
Price: $42 $29.95 30% OFF!




This version is for Windows™. If you are using Apple Mac OS, please click here.
Main Functions:
- Convert Videos to DVD format, burn Videos to DVD disc;
- Create DVD movie disc with your own subtitles;
- Burn Videos to DVD Folder and ISO file.
Key features
---
- Support DVD-R, DVD+R, DVD-RW, DVD+RW, DVD-5, DVD-9, Mini DVD, Mini DVD DL
- Reliable burning engine will burn your videos to DVD disc after encoding
- Create your own subtitles via Solid DVD Creator
- Create DVD chapters freely via

Solid DVD Creator
Support Video formats
---
AVI files: *.avi | MPEG video files: *.mpg;*.m2v;*.mpeg | QuickTime files: *.qt;*.mov | MPEG 4 files: *.mp4;*.m4v | Windows Media Video files: *.wmv;*.asf | 3GPP files: *.3gp;*.3g2 | Flash Video files: *.flv | HD QuickTime files: *.hdmov | Matroska files: *.mkv | Motion |JPEG video files: *.mjpg | Nullsoft Video files: *.nsv | NUT files: *.nut | RealMedia files: *.rm | Smacker files: *.smk | Vorbis files: *.ogm
DVD Creator is the software product of creating a DVD video that can be played on a DVD player. Solid DVD Creator is one of the best. DVD creating software must conform to the specifications set by the DVD Forum group in 1995. The specifications are complicated due to the number of companies that were involved in creating them.
Strictly speaking, DVD creating is a separate process from MPEG encoding, but most modern DVD creating software has a built-in encoder (though separate encoders are still used when better quality or finer control over compression settings is required).
Most DVD creating applications are for video DVDs only, and do not support the creation of DVD-Audio discs. Solid DVD Creator is video DVDs too.
Stand-alone DVD recorder units generally have basic DVD Creating functions, though the creator of the DVD has little or no control over the layout of the DVD menus, which generally differ between models and brands.
Solid DVD Creator helps you to cerate your own DVD to be played on home and portable DVD players. It's a wonderful software for you to enjoy avi, DivX, mpeg, wmv videos on DVD.
Topviewsoft, a Singapore corporation, is also a major provider in selling DVD creating tools. They focus on DVD and video software development. They realized that DVD recorders would become as widely available as CD recorders and that there was no affordable application for the home market. At that time, all DVD creating applications cost many thousands of dollars. Solid DVD Creator brings the cost down. It's a milestone of DVD creating software.
Related Topics
---
More Topics ...