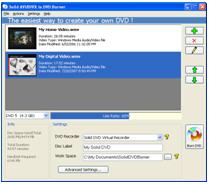 Name: Solid DivX to DVD Converter and Burner
Version: 1.2.7
OS: 98/2000/XP/2003/Vista
Size: 5.9 M
Price: $42 $29.95 30% OFF!




This version is for Windows™. If you are using Apple Mac OS, please click here.
Main Functions:
- Convert DivX to DVD format, burn DivX to DVD disc;
- Create DVD movie disc with your own subtitles;
- Burn DivX to DVD Folder and ISO file.
Key features
---
- Support DVD-R, DVD+R, DVD-RW, DVD+RW, DVD-5, DVD-9, Mini DVD, Mini DVD DL
- Reliable burning engine will burn your DivX videos to DVD disc after encoding
- Create your own subtitles via DivX to DVD Burner
- Create DVD chapters freely via

Solid DivX to DVD Converter and Burner
Support Video formats
---
AVI files: *.avi | MPEG video files: *.mpg;*.m2v;*.mpeg | Windows Media Video files: *.wmv;*.asf




DivX is a brand name of products created by DivX, Inc. which includes the DivX Codec which has become more and more popular. Because its ability to compress big video files into much smaller sizes while having relatively high video quality. The DivX codec uses lossy MPEG-4 Part 2 compression, where quality is well balanced together with the file size. It is one of several codecs commonly associated with "ripping", whereby audio and video multimedia are transferred to a hard disk and transcoded.
Some newer "DivX Certified" DVD players are able to play DivX encoded movies .However the Qpel and global motion compensation features are often removed to reduce processing requirements. They are also excluded from the base DivX encoding profiles for compatibility reasons. So If you want enjoy high quality DivX videos on your home or portable DVD players, you should use Solid DivX to DVD Converter and Burner. This wonderful software will encode DivX to DVD format with much less quality loss.
However, there are much more DVD players which don't support DivX video formats. Then you may download Solid DivX to DVD Converter and Burner to do the encoding job for you. The you DivX videos can be played on Any DVD payer.
From 1998 through 2008, independent software providers within the DVD ripping community created software tools which dramatically enhanced the quality of video files that the DivX 3.11 Alpha and later 3.xx versions could produce. One notable tool is Solid Divx to DVD Converter and Burner,a product of the famous Software Company Topviewsoft Inc, which features two-pass encoding (termed "Smart Bitrate Control" or SBC) as well as access to internal codec features. Solid DivX to DVD Converter and Burner us wonderful software to convert and burn your DivX videos to DVD discs.
Related Topics
---
More Topics ...