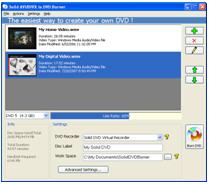 Name: Solid FLV to DVD Converter and Burner
Version: 1.2.7
OS: 98/2000/XP/2003/Vista/Windows 7
Size: 5.9 M
Price: $42 $29.95 30% OFF!




This version is for Windows™. If you are using Apple Mac OS, please click here.
Main Functions:
- Convert FLV to DVD format, burn FLV to DVD disc;
- Create DVD movie disc with your own subtitles;
- Burn FLV to DVD disc or ISO file.
Key features:
---
- Designed especially for Flash flv video. Optimized especially for Flash flv videos.

- Support all DVD players, Media Centers or Home Cinema Set
- Support DVD-R, DVD+R, DVD-RW, DVD+RW, DVD-5, DVD-9, Mini DVD, Mini DVD DL
- Reliable burning engine will burn your videos to disc after encoding
- Create your own subtitles (up to 32 for each video) via FLV to DVD Burner
- Create DVD chapters freely via

Solid FLV to DVD Converter and Burner

- Click to convert and burn; easy to use interface
FLV to DVD Support Video formats:
---
Flash Video files: *.flv | AVI files: *.avi | MPEG video files: *.mpg;*.m2v;*.mpeg | QuickTime files: *.qt;*.mov | MPEG 4 files: *.mp4;*.m4v | Windows Media Video files: *.wmv;*.asf | 3GPP files: *.3gp;*.3g2 | HD QuickTime files: *.hdmov | Motion |JPEG video files: *.mjpg | Nullsoft Video files: *.nsv | NUT files: *.nut | RealMedia files: *.rm | Vorbis files: *.ogm
FLV to DVD Support subtitle formats:
---
Text-based subtitles: *.txt | SSA\ASS subtitles: *.ass;*.ssa | SubRip subtitles: *.srt | SubView subtitles: *.sub
More about FLV to DVD:
Flash Video is the name of a file format which is used to spread video files via the Internet using Adobe Flash Player (formerly called Macromedia Flash Player). Until version 9 update 2 of the Flash Player, Flash Video referred to a certain video format, with the extension FLV. The most recent public release of Flash Player supports H.264 video and HE-AAC audio. Flash Video data may also be embedded within SWF files. Worldwide users of the Flash Video format including YouTube, Google Video, Reuters.com, Yahoo! Video, and many TV news operations are also using Flash Video on their websites. Get flv to dvd software from SoftPedia!
Flash Video is viewable on most operating systems, via the widely available Adobe Flash Player and web browser plugin, or one of several third-party programs such as MPlayer, VLC media player, Quicktime, or any player which uses DirectShow filters (such as Media Player Classic, Windows Media Player, and Windows Media Center) when the ffdshow filter is installed. Topviewsoft is the leading provider of FLV video players.
Though the container format itself is open, the codecs used with it are patented. You should be authorized to use FLV codecs. Solid FLV to DVD Converter and Burner integrates the efficiency FLV codecs developed by Topviewsoft Inc.
Format details
Commonly, Flash Video files contain video bit streams which are a variant of the H.263 video standard, under the name of Sorenson Spark. Flash Player 8 and later revisions support the playback of On2 TrueMotion VP6 video bit streams. On2 VP6 can provide a higher visual quality than Sorenson Spark, especially when using lower bit rates. On the other hand it is computationally more complex and therefore will not run as well on certain older system configurations. Flash Player 9 Update 3 includes support for H.264 video standard (also known as MPEG-4 part 10, or AVC) which is even more computationally demanding, but offers much better quality/bitrate ratio.
The Flash Video file format supports two versions of a so called 'screenshare' codec which is an encoding format designed for screencasts. Both these formats are bitmap tile based, can be lossy by reducing color depths and are compressed using zlib. The second version is only playable in Flash Player 8 and later.
Related Topics
---
More Topics ...