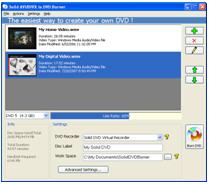 Name: Solid MKV to DVD Converter and Burner
Version: 1.2.7
OS: 98/2000/XP/2003/Vista
Size: 5.9 M
Price: $42 $29.95 30% OFF!




This version is for Windows™. If you are using Apple Mac OS, please click here.
Main Functions:
- Convert mkv to DVD format, burn mkv to DVD disc;
- Create DVD movie disc with your own subtitles;
- Burn MKV to DVD disc or ISO file.
Key features
---
- Designed especially for Matroska mkv video. Optimized especially for Matroska mkv videos.

- Support DVD-R, DVD+R, DVD-RW, DVD+RW, DVD-5, DVD-9, Mini DVD, Mini DVD DL
- Reliable burning engine will burn your videos to disc after encoding
- Create your own subtitles (up to 32 for each video) via MKV to DVD Burner
- Create DVD chapters freely via

Solid MKV to DVD Converter and Burner
Support Video formats
---
Matroska files: *.mkv | AVI files: *.avi
The Matroska Multimedia Container (also known as MKV) is an open standard free video and audio Container format, which can hold unlimited number of video, audio, picture or subtitle streams within a single video file. It is intended to serve as a universal format for storing common video and audio content, just as movies or TV shows. Matroska mkv is similar in conception to other containers like AVI, MP4 or ASF, but is completely open source and free. Matroska file types are .MKV for video (and audio) and .MKA for audio-only files. Get mkv to dvd from SoftPedia!
Do you want to enjoy Matroska (MKV) videos on your home/portable DVD payers? Solid MKV to DVD converter and burner will do the conversion and burning job for you.
Why we call this excellent video container format Matroska (MKV)? Matroska is an English word derived from the Russian word "matryoshka" (Russian: матрёшка, IPA: [mɐˈtrʲoʂkə]), which means "nesting doll" (the common Russian egg-shaped doll within a doll). This is a play on the container (media within a form of media/doll within a doll) aspect of the matryoshka as it is a container for video and audio data and even subtitles.
Initially the update of the format was not very fast. It was initially used only available for DVD rips, as the container allowed the viewer to choose between the original language track and a dub. In recent years, however, Matroska (MKV) has seen much wider use because of the scene adopting it as a format of choice for high definition content ripped from HDTV and next generation video discs (HD DVD and Blu-ray).
Matroska (MKV) usually contains H.264 video tracks, one or more AC3/AAC/DTS audio tracks and one or more subtitle tracks (which can even coupled with one or more embedded TrueType or OpenType font). Before H.264, most MKV files from the above mentioned scene contained RealVideo (RV9, RV10) encoded video data, which at that time was slightly superior to MPEG-4 Part 2(used by the DivX, Xvid and FFVfW codecs), in combination with MP3 or Vorbis encoded audio tracks and text subtitles.
Related Topics
---
More Topics ...