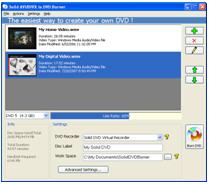 Name: Solid WMV to DVD Converter and Burner
Version: 1.2.7
OS: 98/2000/XP/2003/Vista
Size: 5.9 M
Price: $42 $29.95 30% OFF!




This version is for Windows™. If you are using Apple Mac OS, please click here.
Main Functions:
- Convert WMV to DVD format, burn WMV to DVD disc;
- Create DVD movie disc with your own subtitles;
- Burn WMV to DVD Folder and ISO file.
Key features
---
- Support DVD-R, DVD+R, DVD-RW, DVD+RW, DVD-5, DVD-9, Mini DVD, Mini DVD DL
- Reliable burning engine will burn your WMV videos to DVD disc after encoding
- Create your own subtitles via WMV to DVD Burner
- Create DVD chapters freely via

Solid WMV to DVD Converter and Burner
Support Video formats
---
Windows Media Video files: *.wmv;*.asf | AVI files: *.avi | MPEG video files: *.mpg;*.m2v;*.mpeg
Windows Media Video (WMV) is a compressed video data format for some codecs developed by Microsoft. The original codec, known as WMV, was originally developed for Internet streaming videos, to be a competitor to RealVideo. The other codecs, such as WMV Screen and WMV Image, were created for special content. However, the standard from the Society of Motion Picture and Television Engineers (SMPTE), WMV was gained adoption for physical delivery formats such as HD DVD and Blu-ray Disc.
This guide will demonstrate how to use Solid WMV to DVD Converter and Burner to convert WMV videos to DVD. Solid WMV to DVD Converter and Burner is a wonderful program to use and produces quite nice quality. This software is very easy and is recommended to new users, but some pro's might be surprised about how well this software performs also for certain tasks. Solid WMV to DVD Converter and Burner will leave you with DVD files (vob,bup, ifo etc.) However, you can also choose to output to ISO image if you want to author with another program before you burn the WMV video to DVD.
WMV 9 provides a compression ratio that is two times better than MPEG-4 , and three times better than MPEG-2. WMV 9 is 15-50% better than WMV 8 in terms of compression efficiency.One test report published in January 2005. That why some many customers choose WMV video formats. However, you cannot enjoy WMV videos directly with your home or portable DVD players. You need Solid WMV to DVD Converter and Burner do the conversion job for you.
None of the WMV codecs themselves contain any digital rights management facilities. However, the ASF container format, in which a WMV stream may be encapsulated, may contain digital rights. Windows Media DRM, which can be used in conjunction with WMV, supports time-limited subscription video services such as those offered by CinemaNow. Windows Media DRM, a component of PlaysForSure and Windows Media Connect, is supported on many modern portable video devices and streaming media clients such as the Xbox 360.
Related Topics
---
More Topics ...