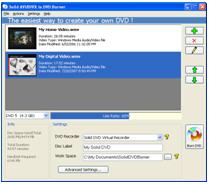 Name: Solid MPEG to DVD Converter and Burner
Version: 1.2.7
OS: 98/2000/XP/2003/Vista
Size: 5.9 M
Price: $42 $29.95 30% OFF!




This version is for Windows™. If you are using Apple Mac OS, please click here.
Main Functions:
- Convert MPEG to DVD format, burn MPEG to DVD disc;
- Create DVD movie disc with your own subtitles;
- Burn MPEG to DVD Folder and ISO file.
Key features
---
- Support DVD-R, DVD+R, DVD-RW, DVD+RW, DVD-5, DVD-9, Mini DVD, Mini DVD DL
- Reliable burning engine will burn your MPEG videos to DVD disc after encoding
- Create your own subtitles via MPEG to DVD Burner
- Create DVD chapters freely via

Solid MPEG to DVD Converter and Burner
Support Video formats
---
MPEG video files: *.mpg;*.m2v;*.mpeg | AVI files: *.avi | Windows Media Video files: *.wmv;*.asf
The Moving Picture Experts Group, commonly referred as shortly MPEG, is a working group of ISO/IEC charged with the development of video and audio encoding standards. The first meeting of MPEG standard was in May of 1988 in Ottawa, Canada. As of late 2005, MPEG has grown to include about 350 members per meeting from many industries, universities, and research centers. MPEG's official designation is ISO/IEC JTC1/SC29 WG11.
MPEG has standardized the following compression formats and some other standards:
- MPEG-1: Initial video and audio compression standard. Later used as the standard for Video CD, and includes the popular Layer 3 (MP3) audio compression format.

- MPEG-2: Transport, video and audio standards for broadcast-quality television. Used for over-the-air digital television ATSC, DVB and ISDB, digital satellite TV services like Dish Network, digital cable television signals, SVCD, and with slight modifications, as the .VOB (Video OBject) files that carry the images on DVDs.
- MPEG-3: Originally designed for HDTV, but abandoned when it was realized that MPEG-2 (with extensions) was sufficient for HDTV. (not to be confused with MP3, which is MPEG-1 Audio Layer 3.)
- MPEG-4: Expands MPEG-1 to support video/audio "objects", 3D content, low bitrate encoding and support for Digital Rights Management. Several new higher efficiency video standards (newer than MPEG-2 Video) are included (an alternative to MPEG-2 Video). However, MPEG-4 video can't be played on most home and portable DVD players. You should use Solid MPEG to DVD Converter and Burner to help you do the conversion job.
Related Topics
---
More Topics ...